Ahoy matey's –
In this latest post, we'll be going over a funnel beloved by full-stack marketers, growth marketers, and growth hackers alike: the pirate funnel.
If you haven't noticed, marketers love their damn acronyms. And more than that, tech and marketing nerds like me love to use the term pirates (for reference: Pirates of Silicon Valley or Category Pirates).
What is the Pirate Funnel?
The Pirate Funnel is a framework that breaks a company into sections that show you were to focus your marketings attention. The Pirate Funnel was originally introduced by 500 Startups founder, Dave McClure in 2007.
The Pirate Funnel consists of the acronym AAARRR. As in, aaarrr matey's 🏴‍☠️
The 6 Stages of the Pirate Funnel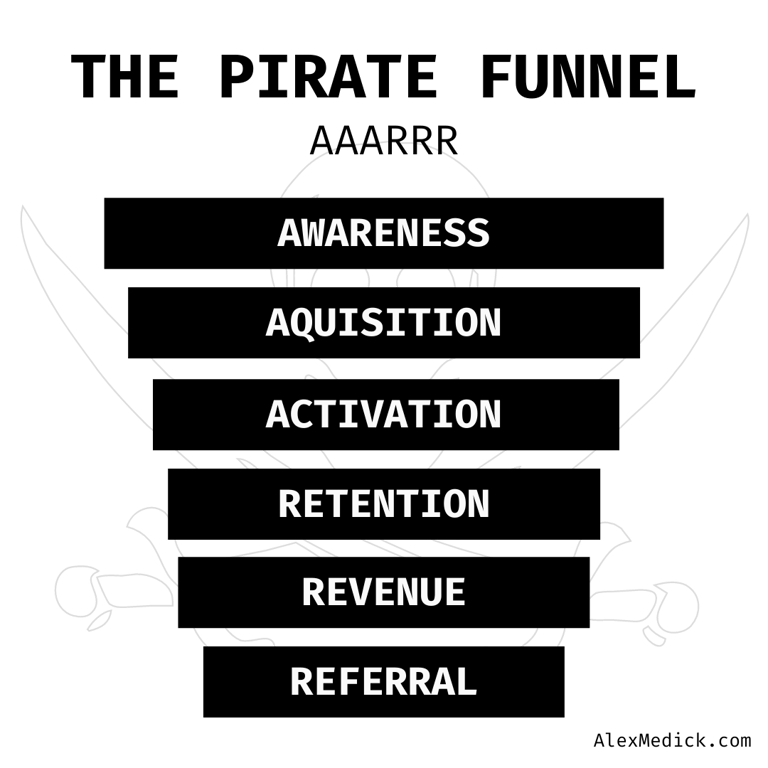 Awareness – How many people do you reach?
Acquisition – How many people visit your website or landing page?
Activation – How many people take the first important step? (E.g. Sign-up for your newsletter, install your app, or create an account)
Retention – How many people come back for repeat usage?
Revenue – How many people start paying? And how much do they pay?
Referral – How many customers become advocated by referring friends to your business?
Let's Grow 🚀
Have questions? I have an answer. If you have questions about the Pirate Funnel or if you want to dive deeper on anything, feel free to send me an email at ajm@alexmedick.com.
Also, don't forget to subscribe to my newsletter for marketing tips like this sent directly to your inbox 👉 Subscribe here